Backyard Climbing Wall
Putting a climbing wall in your backyard is possible sourcing all parts from the Internet, but it is quite a bit of work.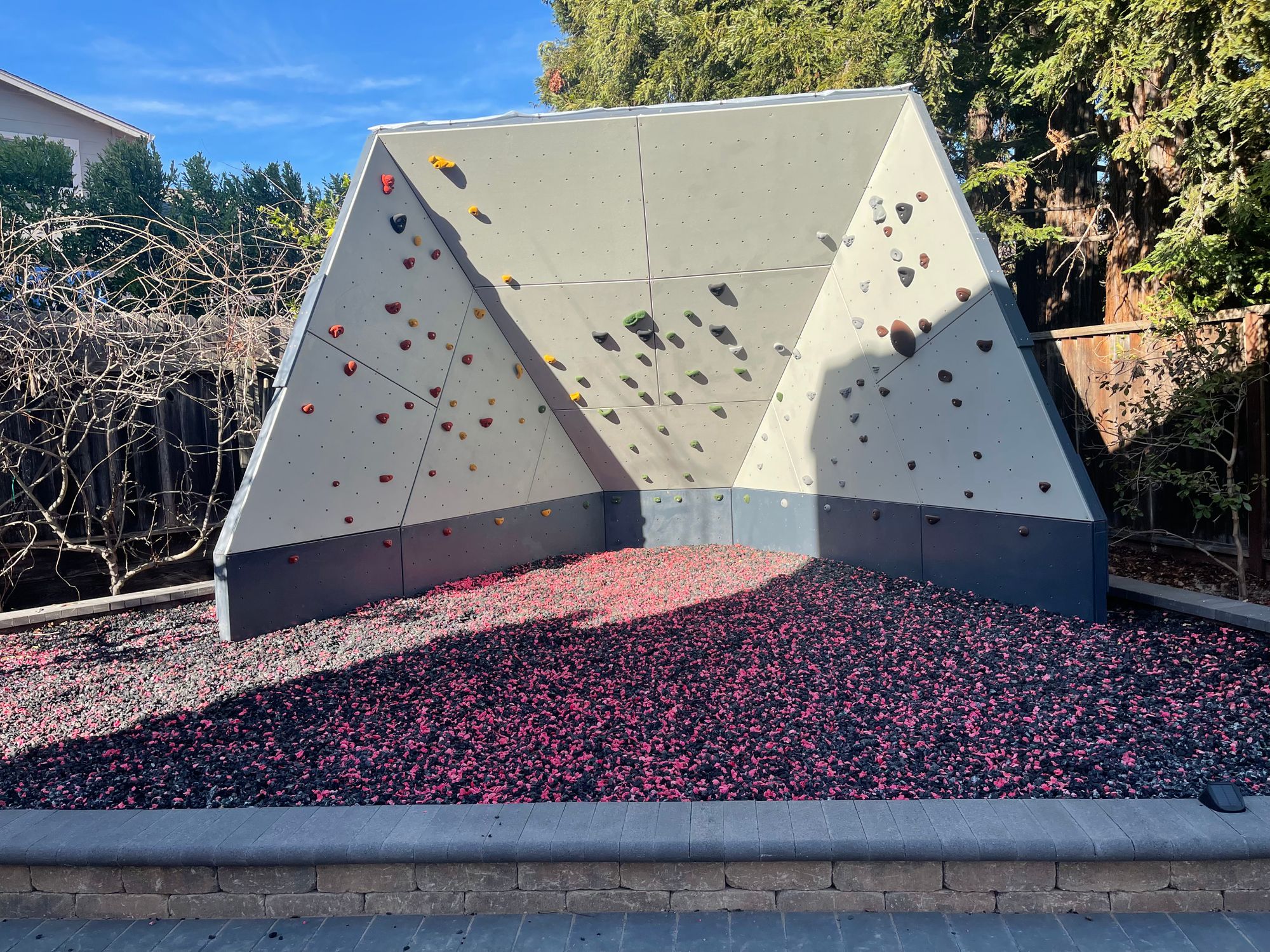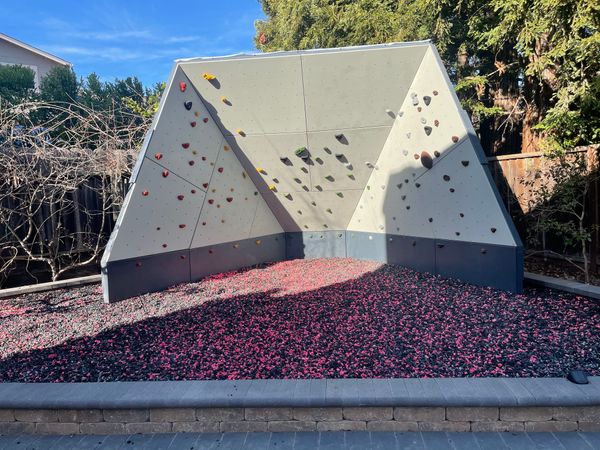 Coronavirus pandemic has kept all of us home, and I decided to add a climbing wall for my family and myself.  Truth is, it was much more costly and work than I expected.  But if you plan to do something similar, here are my notes to add to your research.  You can get all the parts from the Internet.  Need to put everything together.  Still deciding if it was worth the time and money just to avoid people at the climbing gyms.  But it is going to be fun setting routes for kids, we'll see.
Planning
This step is all about figuring out how much space you have, how much money you are willing to invest, and what kind of wall you want.  Space and cost are exactly what you think they are, but the type of wall depends on the user(s).  How high do you want to climb (and fall)?  Do you want to use both sides of the wall?  Do you want overhangs or other interesting features?  Do you want bolt-on or screw-on holds (bolt-on requires holes on your panel and T-nuts; screw-on will make holes on your panel if you change your routes)?
Those walls that you can climb on both sides are often limited to straight lines or 90-degree angles.  They are "traverse walls" that you see often at playgrounds.  If not, you need to build a skeleton under the panels.  Almost all of them will require concrete footings, or the structure may use anchoring screws to keep it stable.  If you don't have experience doing this concrete work yourself, find a contractor who is experienced; last thing you want is to  drill into your concrete footing and breaking it.
It is also possible to order a prefabricated boulder, but you'll need to hire someone to lift the boulder to its final location via a crane, after setting up the area first (more concrete work).  I didn't explore this in detail, because I knew where I was going to put up the wall was far from the street with no paths for equipment to move the boulder.
I was also told it is possible to hire people to build the wall for you on-premise.  However, you'll have to pay for transportation and lodging, as well as equipment rental.  Sounds... expensive so I never inquired about the cost of this option.  One of the guys I contacted replied and sent me a few pictures, but stopped replying suddenly.  I will provide links to companies I ended up buying parts from at the end of this page, in case they are useful to you.  All of them replied to e-mails quickly, even if they are in different time zones; some of them you can call.  It is best that you share your goals with them first and they can give you recommendations and costs.
Falling Off
I want to protect my family from falls during climbing, in the end I went with rubber mulch.  There are many vendors for rubber mulch, but many of them will sell you recycled shredded tires.  I was afraid that those may include metal parts (guaranteed to be less than 1%, the companies said; that's still too much for me), so I only considered manufacturers that sources the rubber some other ways instead of tires.
Things about rubber mulch that I didn't realize: they get wet/cold outdoors overnight during California winter.  Not really a problem if y0u are wearing shoes.  Also, they shift when people walk on them.  Since different colors have different prices, I thought I could use a layer on top to make the appearance uniform; my plan totally did not work.  Over time the amount of cushion may decrease because some mulch get displaced, or due to compression, but my rubber mulch returns to their original shapes consistently, so maybe compression is something I need to verify in a few years.
They feel very... spongy, kind of like the surfaces at some school playgrounds and there is a lot of give when you land on them, or trampoline.  I like them better than wood chips that pricks with tiny splinters from time to time or sand/gravel that get stuck in shoes all the time.  It feels like they are absorbing the shock well, but I haven't fallen on my back hard into them.  The recommendation I read is that you want material 4- to 6-inches deep for fall protection.  For my wall, ground area of 460 square feet, and 230 cubic feet (3000 pounds) of rubber mulch was enough for 4 inches.  Since I only use one side of the wall, I relocated rubber mulch from behind the wall to add padding in zones directly below the overhang.
Hardware
I went with bolt-on holds, because the wall I ended up ordering came with pre-installed T-nuts.  This way I can change the routes later, and don't have to drive screws into my wall.  Things I needed in addition to the wall:
Steel bolts because the wall was going to live outdoors.  They come in different lengths and generally the 2-inch bolts is all you need, unless you get holds that have weird shapes.  Generally you want some portion the tip of your bolt to protrude on the other side of the wall to really support your weight on the hold.  Socket head size 5/16".  It is also possible to order the hardware with holds for added cost.
A setter's wrench, 5/16" for socket bolts.  I do this by hand so that I don't cross-thread the bolt.  But then, I don't have that many holds.
Anti-seize lubricant.  Don't need a lot.
Holds.  There is a difference for hand holds and foot holds.  If your kids are new to this, you may want something more meaty holds to grab onto.  You should also consider down-climb holds if your wall is tall: I didn't want my kids to just jump off the wall.
Helmet.  Just in case.
Chalk, to dry hands.
Assembly
At least for my wall, assembly wasn't something I could do on my own, needed several people to hold the panels in place, sometimes high on a ladder, while another person drives the screws that connect the panels together.  It was almost a day's work, too, so plan accordingly.
The panels didn't fit together too well, there were a lot of micro adjustments.  Very hard to do unless you have help.  You may also need to replace or repair panels and frames if they were damaged during shipping.  Your experience may be much better or smoother, but you want to be prepared and don't want your friends or family to get hurt.  The unfortunate thing is, not many people have experience doing this.  Interview your contractors and share the assembly instruction with them first.  You may want carpenters who can cut new pieces to replace damaged bits.
In The End
Not as simple as putting together a basketball hoop, but climbing is a fun activity for everyone that exercises different muscle groups and builds core strength in your body.  Figuring out  how to attack the routes is like solving physical puzzles and gives you the same euphoric feeling when you manage to execute moves according to plan to reach your goal.  Teach your kids to observe, think, and not make risky moves; in time they will understand what they are capable of doing and get more enjoyment out of climbing.  Decrease difficulty by adding an extra hold here and there.  Add holds to make the whole thing a traverse wall.  There is a lot of variety to be had, especially if you are willing to re-arrange your holds.
Links
The following vendors all accept credit cards, and will ship parts to your home.  If the parts come on pallets they will be delivered with lift-gate service, but you still need to stage the pallets somewhere; none of them could be stacked.